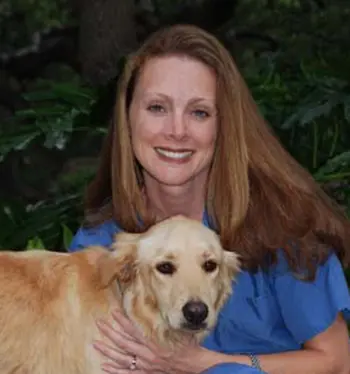 Dr. Kari McGlothlin graduated Magna Cum Laude from Texas A&M University College of Veterinary Medicine in 1997.
She grew up on the north side of San Antonio and married her high school sweetheart, Scott McGlothlin, just before entering veterinary medical school. They have two sons, Jared and Blake.
The furry members of the McGlothlin family include Annabelle (a golden retriever cross) , Hop-a-Long Cassidy (who is actually three-legged) and Paddington (who is also three-legged).
When not caring for her furry patients, Dr. McGlothlin enjoys spending time with her family, exercising, traveling, and working in her yard.
Dr. Jamie Fehlis graduated with honors from Texas A&M University College of Veterinary Medicine in 1999.
She was born in New Jersey (but don't hold that against her) and grew up in El Paso and then Midland, TX.
Dr. Fehlis came to work in San Antonio after graduation from veterinary school and soon met her wonderful husband, Chuck Fehlis. They have two lovely children, Samantha and Luke.
The Fehlis family also includes three furry members, Loki (ToneLok), Murray (Murray Moo) and Olive (Coco Bean). Dr. Fehlis enjoys gardening, swimming, pilates and working out.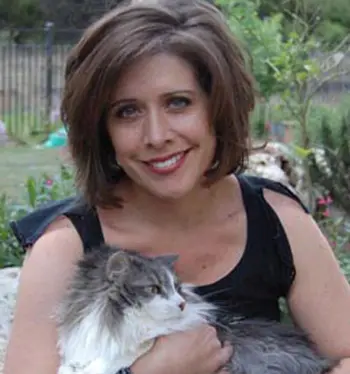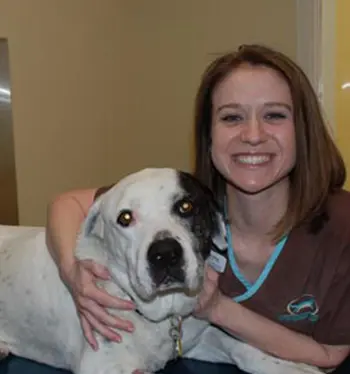 Lead Licensed Veterinary Technician
In 2009, Chrissy completed the academic program for an Associate Degree in Veterinary Technology. She passed her State and National Board exams and is now the Lead LVT at Cibolo Canyons Veterinary Hospital.
Chrissy has an adorable daughter named Charlize. She also has a couple of great pets, she has two cats Ollie, Abigail and her newest addition Finnley is a very happy pup!
In her spare time, Chrissy enjoys spending time with her family and traveling. She also enjoys running, and looking for new healthy recipes to feed her family.
Donna was born in New Jersey and taught High School Music and Drama for 14 years before moving to Texas and entering the Veterinary Field. Her family includes her wife, Linda, and four cats:  Brady, Tessie, James T and Freddie. Donna has played clarinet professionally in the NY/NJ area and Italy, then played saxophone and keyboards in a local Pop/Rock band here in San Antonio. She enjoys traveling and sports which is why ESPN is always on the TV at CCVH!!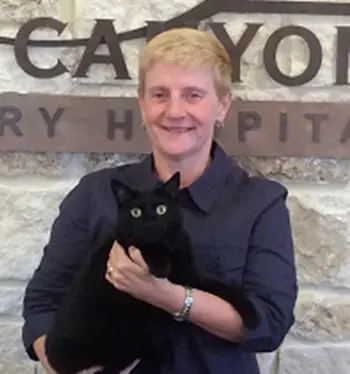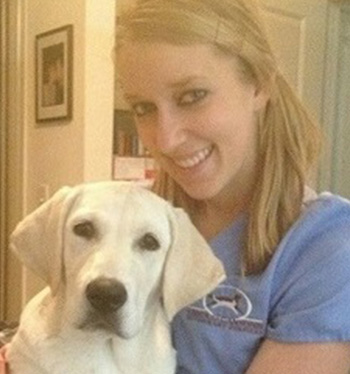 Kimberlee graduated from West Texas A&M in 2012 with a bachelors degree in wildlife biology. She started her career working with white-tailed deer during the summer of 2012. In December 2012 she got a internship at the San Antonio Zoo and worked with the Mammals South Department. In March 2013 she started working here at Cibolo Canyons as a technician assistant and is working towards fulfilling her childhood dream to become a veterinary technician.
At home Kimberlee has a very spunky labrador named Major that she commits most of her time to. When Major finally tuckers out, Kimberlee loves to spend time with her husband Aidan doing anything outdoors, either throwing a frisbee, playing catch, or taking walks, but she also enjoys just relaxing over a good movie and cooking for family and friends.
Liz has a varied background working with animals including the San Diego Zoo, California Wild Animal Park, Sea World of San Diego and Sea World of Texas. Liz has been an integral part of our animal care staff since we opened in 2009. Liz is always up for a personal challenge and trains hard as a cyclist in support of MS research. She also enjoys nature, and when she has time she is an avid reader.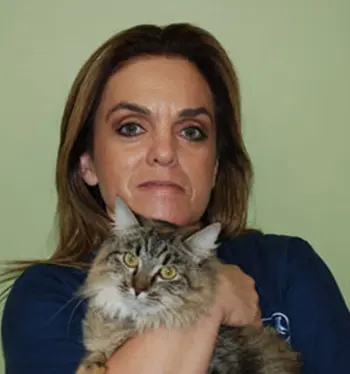 Mama is our reception area supervisor and greeter (when she's in the mood) and Domino is our treatment area overseer and snack thief! Papa is our laid back treatment observer, but can be quite mischievous. Pancake likes to climb the cabinets in our treatment area. They make us constantly ponder the question of who rescued who. Their lives are quite posh with our family at CCVH and each day they provide us with laughs and unconditional love!