Cibolo Canyons Veterinary Hospital is a progressive small animal hospital dedicated to providing the best medical care possible for your beloved pets. We designed our facility to not only be a comfortable and calming environment for our patients and their owners, but to also house the most advanced diagnostic equipment available today in the veterinary industry. We would like to share with you what our hospital can provide for your pets.
Highly-trained and experienced professional groomers specializing in scissor cuts
Full-service bath with Premium Shampoo and Deep Conditioner, includes nail trim, ear cleaning and anal gland expression included
Additional services including shed reduction, teeth brushing, nail dremeling can be provided
From breed-specific grooming to a basic bath and blow-out, your pet will enjoy their day being pampered
Appointments required for grooming
Current vaccination records are required for grooming services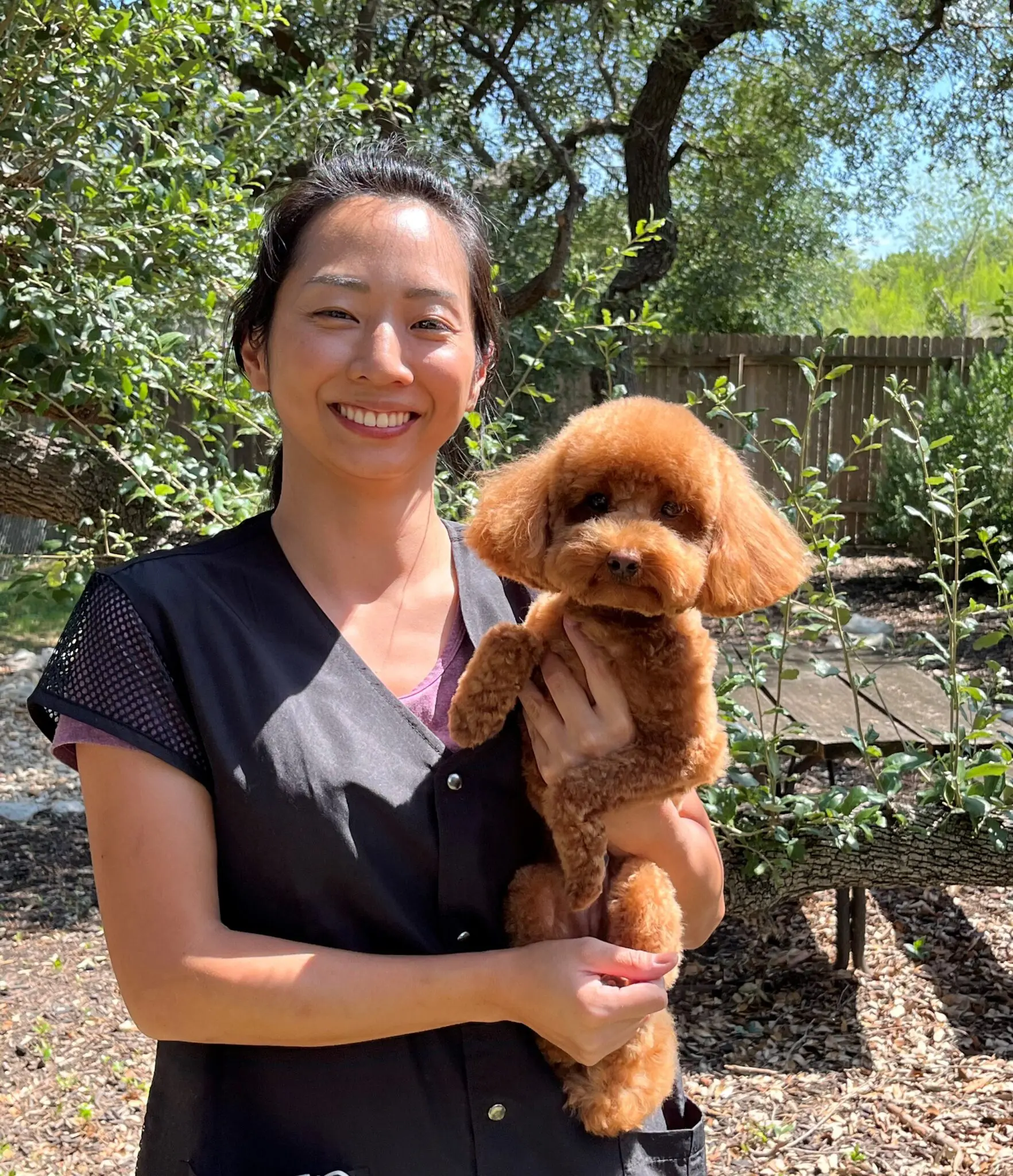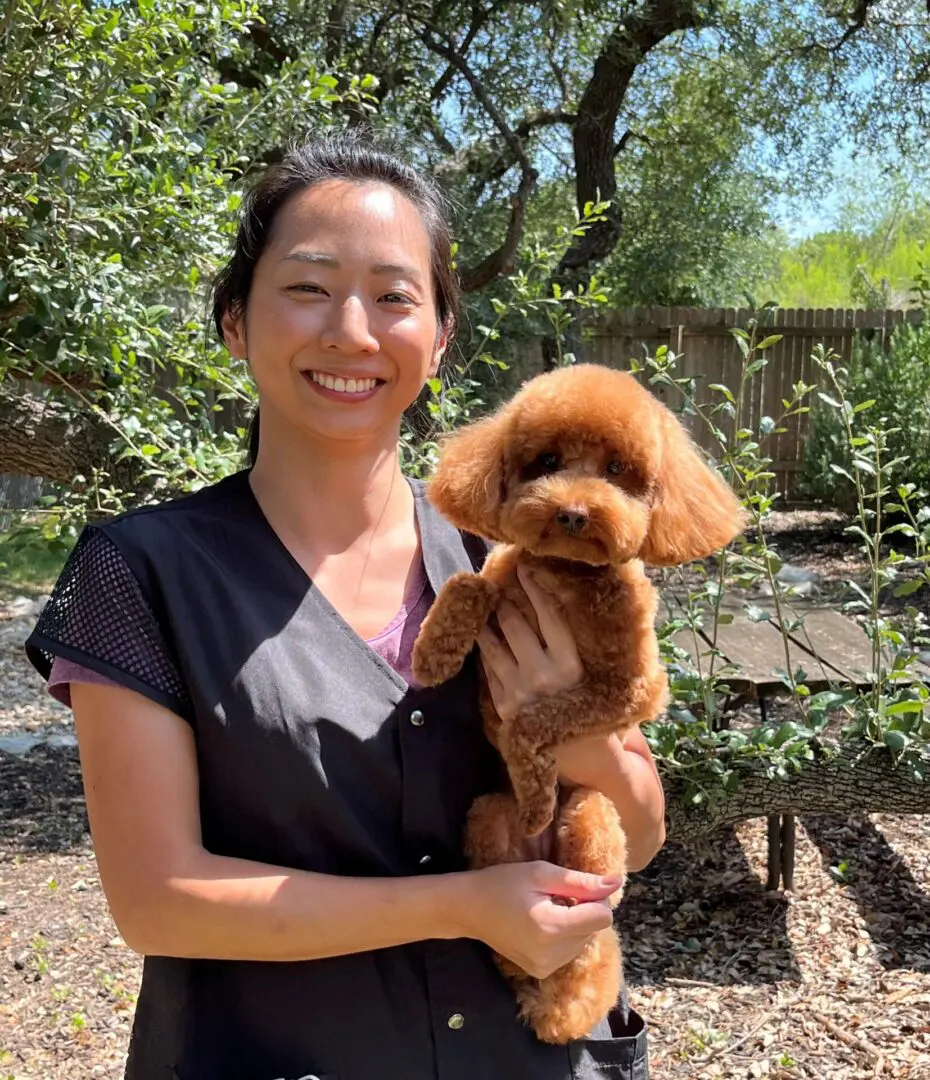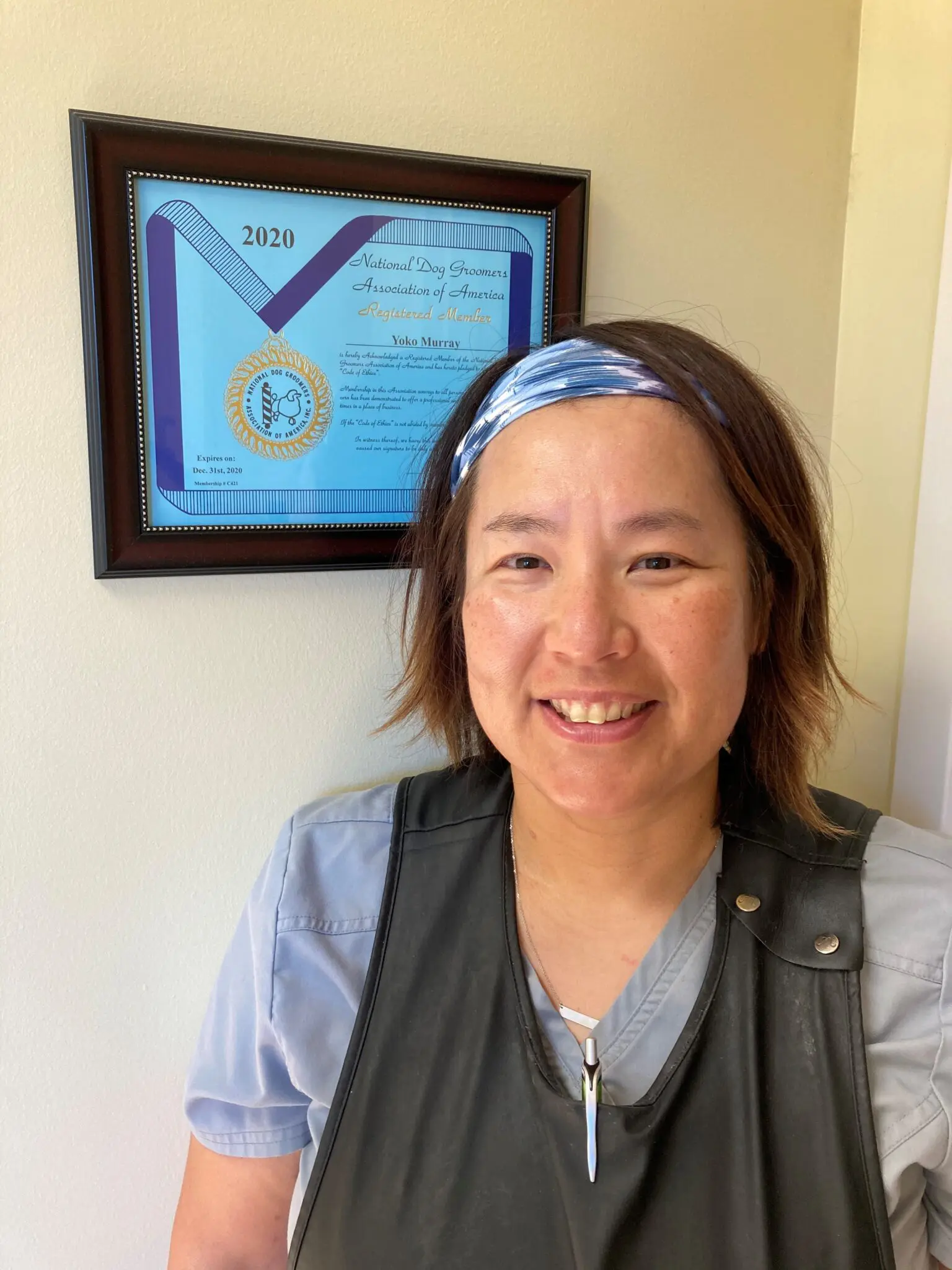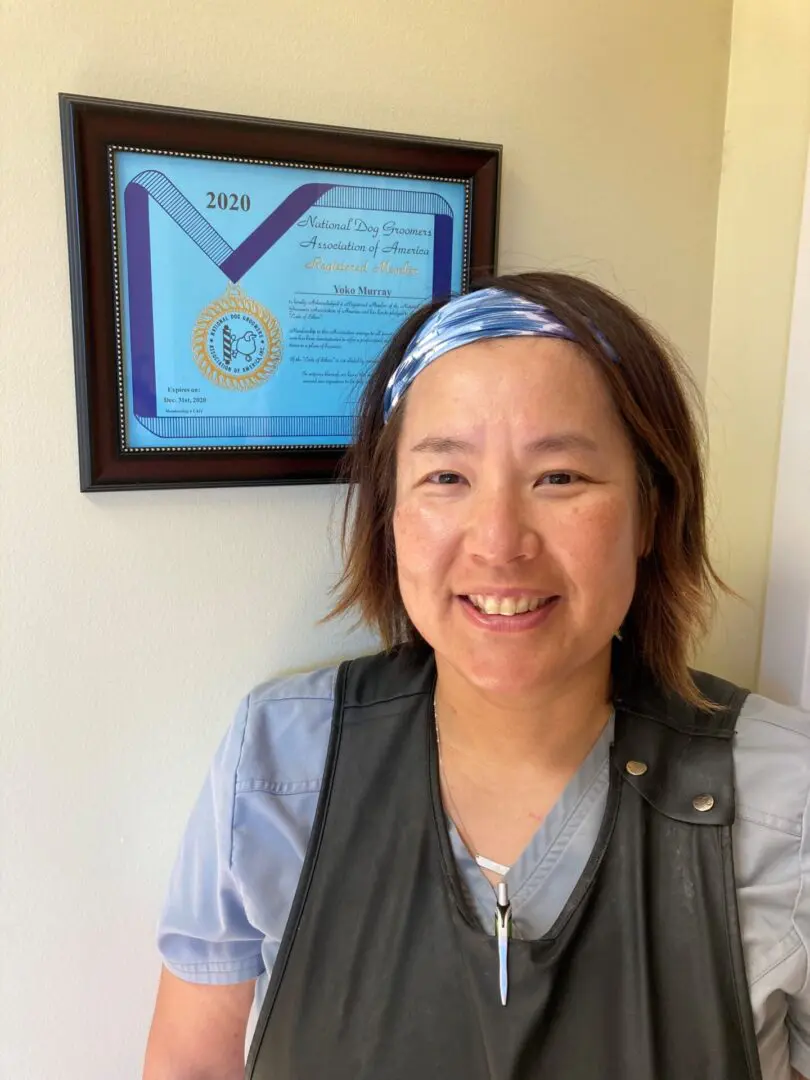 We pride ourselves on being an Eco-friendly veterinary practice. By committing to a paperless practice, which means all medical records and history, laboratory results, diagnostic imaging, vaccination history and financial transactions are entered and stored on computers. This allows us to be more efficient, have legible medical records and have all diagnostic testing results in the patient's record for our Doctors to assess and share with pet owners quickly.
Provides the most detailed radiographs medically possible, and our machine is capable of providing an image in approximately 30 seconds. The technology is very precise with little chance of having to re-radiograph our patients multiple times in order to get a good, diagnostic film.
We then send our digital images via the internet to a board certified Veterinary Radiologist for expert review.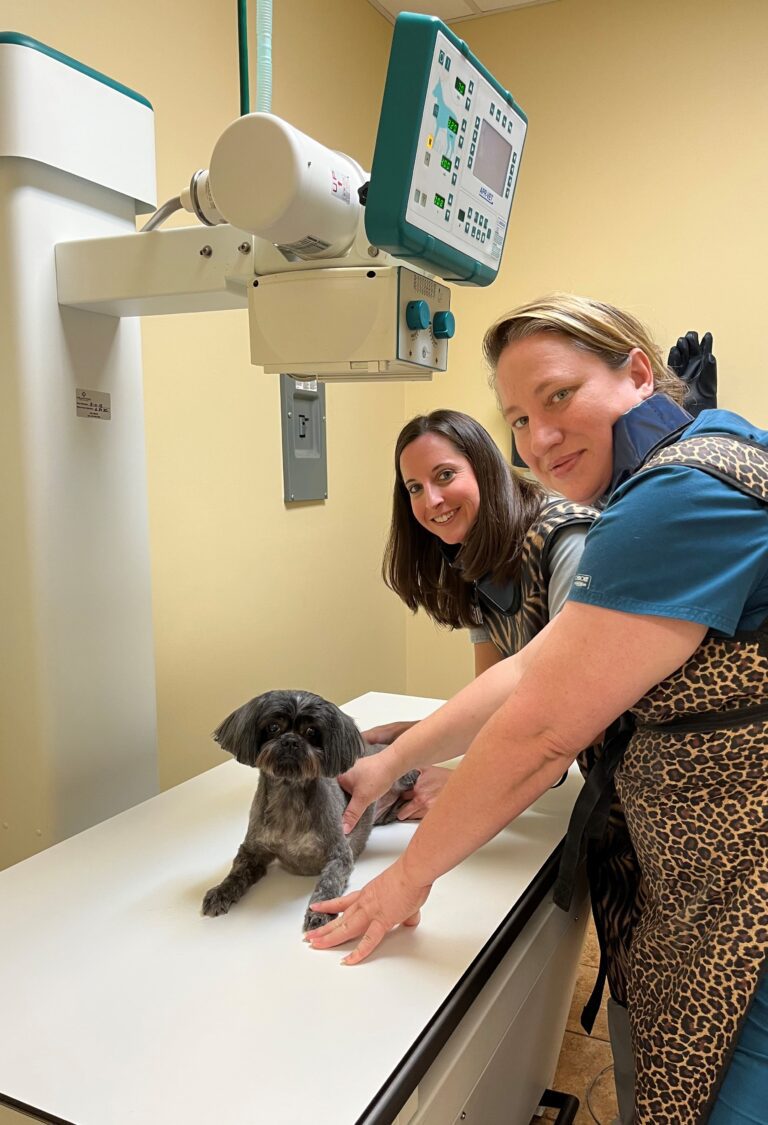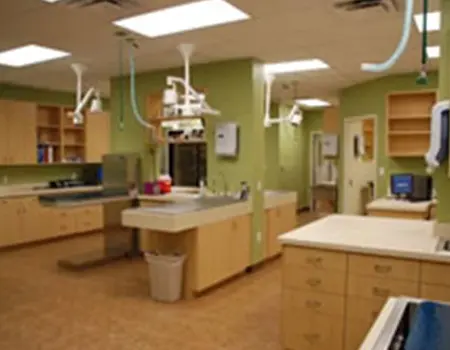 Treatment Center and ICU Ward
Our treatment center has four examination tables, including a smooth glide lift table. Our ICU ward features a glass sliding door providing a quiet, calming environment for our sick and post-surgical patients, while enabling our Doctors and technicians to carefully monitor them. Our ICU kennels feature heated floors to maintain the patient's body temperature post-operatively without the risk of a thermal burn. An oxygen delivery kennel provides a higher concentration of oxygen when necessary in a crisis situation.
Keeping our patients safe is our highest priority. The tools and techniques we utilize for pet surgeries are the most up-to-date, and designed specifically for your pet's comfort. We know that it takes considerable trust to leave your pet in someone else's care, especially when that care involves surgery. One of our team members will be more than willing to discuss the process and let you know what to expect. Our team is highly trained and experienced in performing surgical procedures.
Our surgery suite was designed to provide an aseptic environment for surgeries while providing the most up to date monitoring equipment available. We use the PC Vet Guard Wireless monitor by DVM Solutions and can monitor heartrate, respirations, pulse oximetry, EKG, temperature and blood pressure on your pet during their surgical procedure. We use a multitude of induction agents, Isoflurane anesthetic gas and a variety of pain medications to ensure safety, efficacy and pain control/management in all surgical patients. Surgery patients receive a pre-anesthetic examination, blood panel including chemistries and a CBC, an IV catheter and intravenous fluids during their procedure. This process allows us to assess whether your pet is healthy enough to handle anesthesia and will provide the tools we need to administer emergency treatment during any procedure if it became necessary.
To help maintain our patient's body temperature during surgeries and teeth cleanings, we have chosen two patient warming devices. The Bair Hugger warming device blows warm air into a soft, lofty blanket that curls up around the patient while they are under general anesthesia for surgery. The "Hot Dog" warming device actually has the heating element blended into the fabric of the blanket and it can be folded over the patient during surgery or a teeth cleaning. Both patient warming devices keep our patients more comfortable while under anesthesia without any risk of burning their skin.
A specific area of our treatment center is devoted to dental cleanings and procedures. We use the IM3 dental machine with an ultrasonic scaler to clean and polish the teeth of even the most challenging periodontal case. Additionally, our IM3 machine has a chlorhexidine flushing system to kill any bacteria on contact to decrease the amount of bacteria that gets into the bloodstream during a teeth cleaning. A Licensed Veterinary Technician performs the teeth cleaning, while all extractions or surgical procedures in the mouth are performed by our Veterinarians.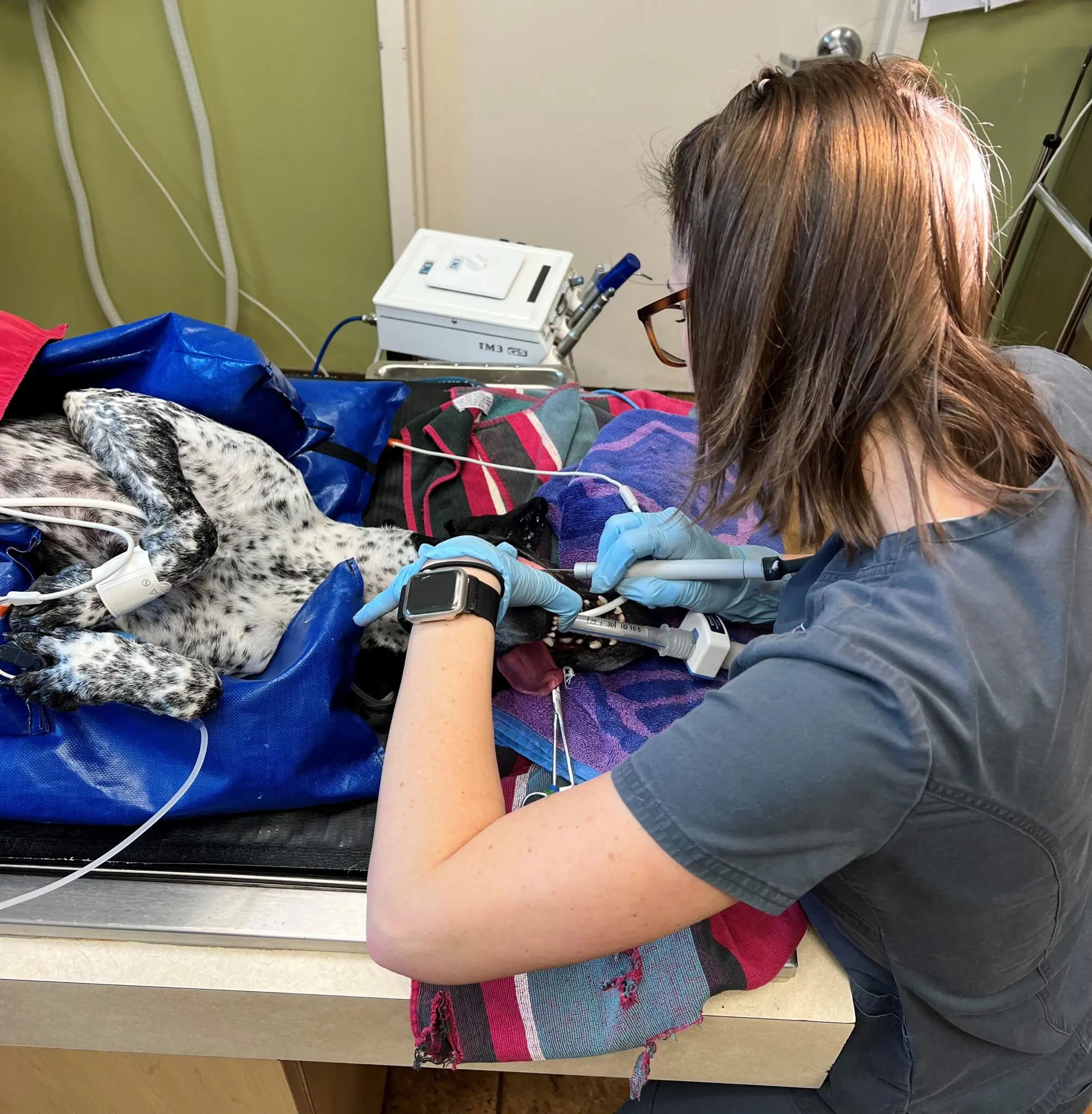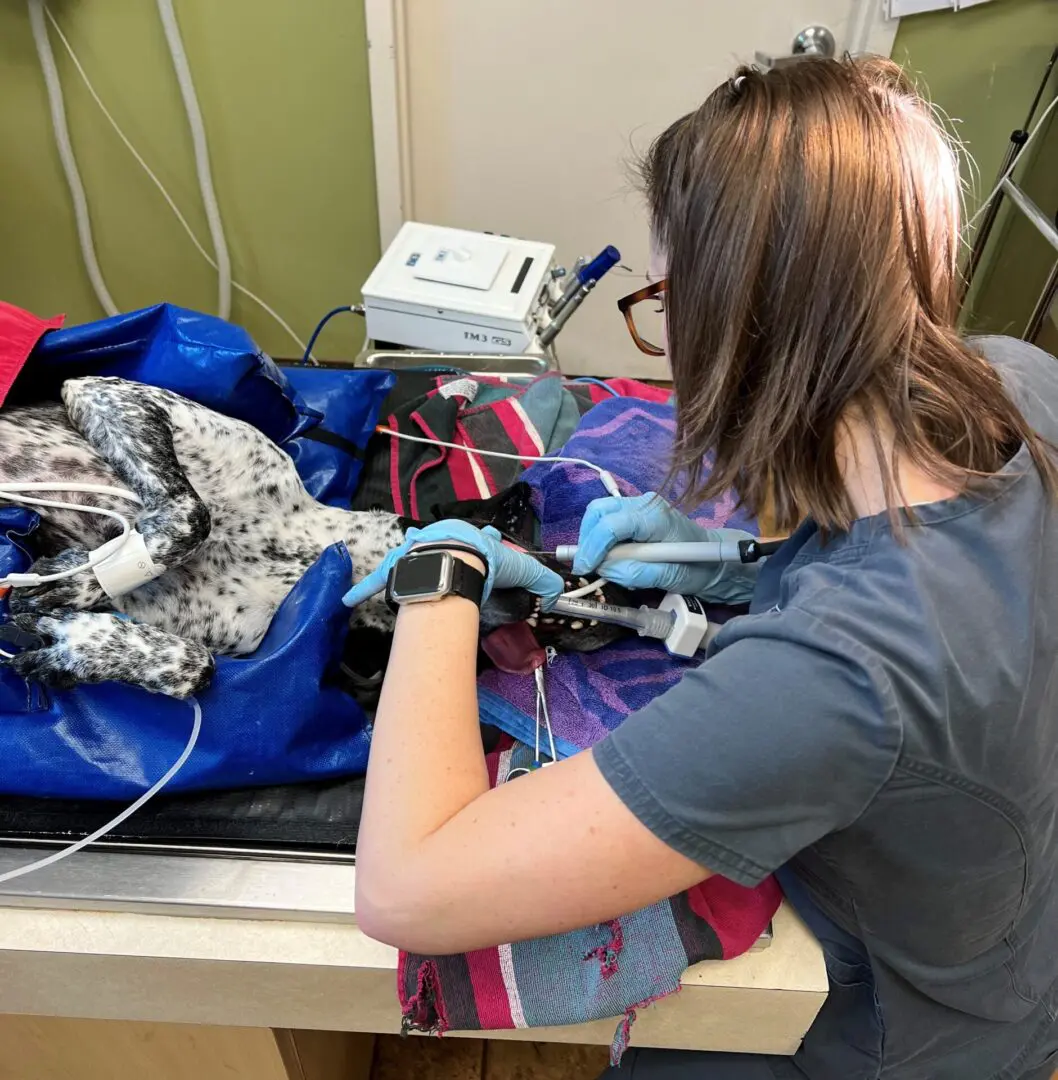 We can help you treat and prevent gum disease in your pet with anesthetic dental cleanings, which involve several steps:
Pre-dental blood work to check organ function and be certain that your pet is healthy enough to undergo the procedure.

Periodontal exams where we closely examine the teeth and gums for signs of damage and chart our findings.

Digital dental X-rays are highly recommended and enable us to see the condition of your pet's teeth and bone below the gum line.

Professional dental cleanings to blast away plaque and calculus (tartar) above and below the gum line.

Polishing to smooth the surfaces of the teeth and prevent future buildup.

Checking the pockets around the teeth for abscesses and infections.

Extracting loose, broken or decaying teeth as needed.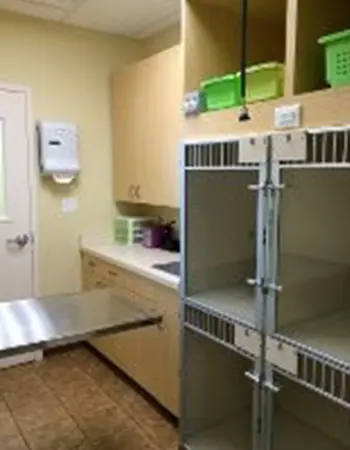 Contagious Disease Isolation Ward
In the event that your pet acquires a contagious disease special care can be given in our isolation ward adjacent to our treatment center. It is secluded enough to protect any other patients in our hospital, but visible at all times enabling our Doctors and staff to observe any symptoms or activity from your pet and perform any treatments necessary without making your pet feel abandoned.
Three examination rooms are available for our patients: one for small dogs and cats, and two for larger dogs. Our big dog rooms feature quiet, smooth glide lift tables with a cushioned top so our larger patients can still be examined properly on the table without having to be awkwardly lifted into position.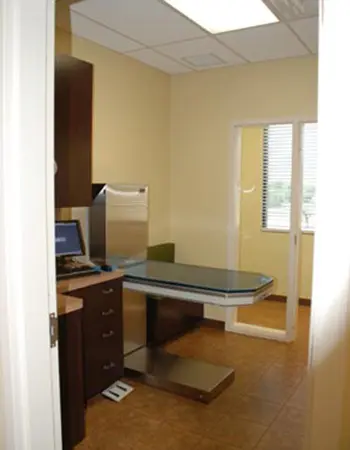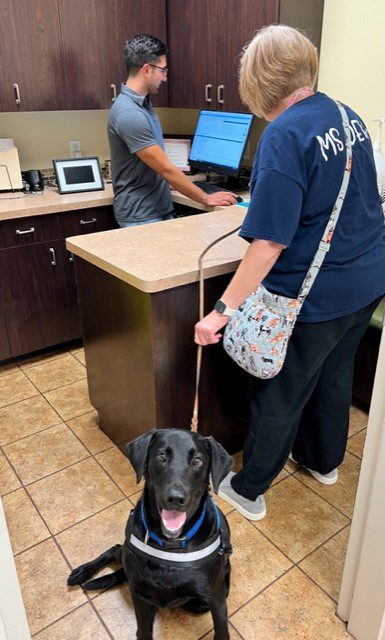 Our private consultation room is available to discuss medical treatments for your pet. It provides a less "clinical" setting for reviewing procedures. 
Prescription Diets and Medications
Extensive research was done by our doctors before choosing specific diets we would carry at Cibolo Canyons Veterinary Hospital. We proudly offer specific prescription Royal Canin, Purina and Hill's Science Diets Veterinary Diets. Our in-house pharmacy stocks a wide variety of prescription medications along with medicated skin products, heartworm preventatives and flea/tick preventatives and treatments.